A re-introduction
I'm really excited to be writing this new post for my blog (it must be at least a year since the last one!) which now sits under its own page on my artist website.
As many of you will know, I now have my own business, creating prints for exhibitions, galleries and sale, giving demonstrations and offering linocut workshops for beginners.  This, and future posts, will therefore mainly focus on my art practice, with a few little snippets of our continuing French adventure thrown in for good measure. I hope you will continue to enjoy reading these posts and I really look forward to engaging with you via your comments and feedback ?
As a quick re-cap, in 2017 Edward built a studio for me inside one of the huge barns – it's a wonderful space, full of light with plenty of room to work and move around.  It houses my three printing presses, doubles up as a gallery of my work and is transformed into a workshop for beginners to linocutting, when I run my day courses.  I try to work in the studio daily – it's quite simply, one of my favourite places to be…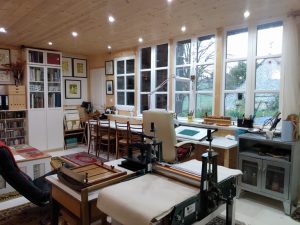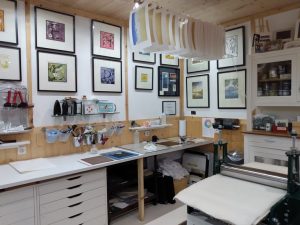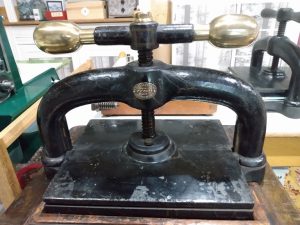 The latest print, hot off the press, literally!
In the spring of 2018, I embarked on a long-term project, creating a botanical alphabet in reduction linocut.  Each letter is depicted by two plants whose names begin with the given letter.  I use latin or common names, which gives me a greater range of possible subjects – I particularly like the poetry of common names of some of my favourite plants.  The very first letter was L – 'Lenten Roses, Lords and Ladies'…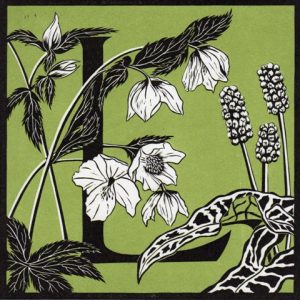 Over three years on and the letter N, the 19th completed print of this series, came off the press yesterday!  The following photos show the sequence, from original drawing to final print….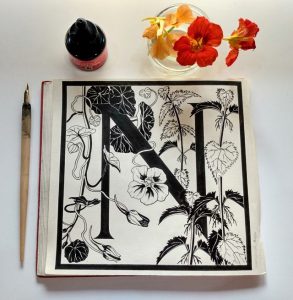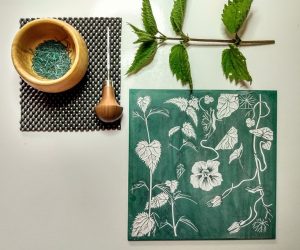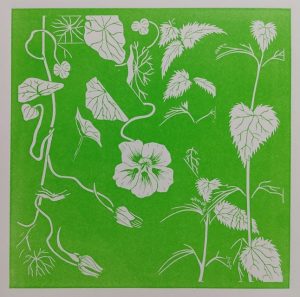 From top to bottom: the original pen and ink rendition; the carved block, ready for the first layer of ink (the white areas have been carved away and lightly filled with talc to help me see my marks); the first layer of the reduction linocut print.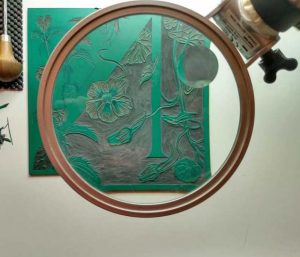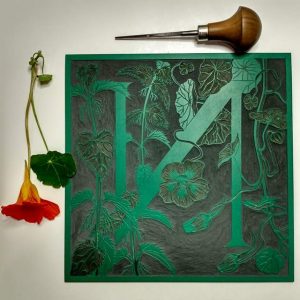 From top to bottoom: Recommencing carving of the block for the second and final layer – I always need a magnifying glass these days!; the full image is now completely carved ready for the black layer of ink; the final – 2-layer reduction linocut print.
While I love the excitement of seeing the very first print emerge from the block, for each of these linocuts, the printing process can be tricky. Some blocks seem to print without any problems at all, others need a little manipulation and gentle persuasion…. I'm delighted to have produced a full edition of 10 prints for this letter, which will be signed, editioned and added to my website as soon as the ink is dry!
Title: 'Nasturtium, Nettle'
Image size: 200 x 200mm, printed on St Cuthbert's Mill Somerset Satin 100% cotton paper, with Hawthorn's stay open inks.