About Me
I am a relief and intaglio printmaker, producing linocut, dry point and collagraph prints, which are inspired by the natural environment around me. From the moment I took a short course on linocut printmaking, I was hooked!
I predominantly work in reduction linocut. My prints are translated from original pencil drawings and pen and ink designs – the challenge for me is then transferring these monochrome images into multicoloured linocut prints.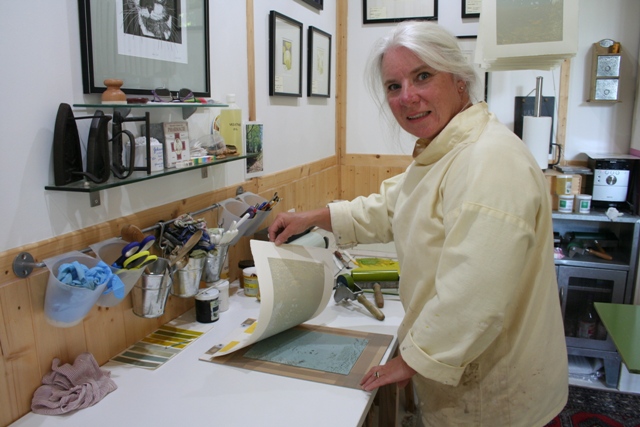 I am fortunate to live in the beautiful Pays de la Loire, France, which gives me endless inspiration for my work. The natural world and my surroundings constantly fill my head with patterns, images and ideas for new subjects and projects. A momentary tableau, perhaps seen on a drive or a walk, will often be the starting point for my prints.
I use Japanese vinyl and fine gouges, whereby, after transferring the selected design to the block, a series of strategic cuts and marks are made in the vinyl, before the block is inked-up ready for printing. Different colours and blends of ink are used (usually from light to dark) to build up the image in layers, by alternating a round of cutting with the next colour pass, to gradually produce the final print. These prints can have 8 or more colour passes, depending on complexity of the design.
I am a member of 'ARTSvaloir', an association whose goal is to present the richness and diversity of ART on our territory. I have exhibited in local and regional galleries, demonstrating my linocut work as a guest artist with L'Art'elier at Ste Suzanne and I regularly take part in events and shows in La Mayenne and Normandie.
In December 2019, three of my works ('Crépuscule', 'Le Vieux Chemin' and 'Bienfaisance') were selected by a jury of the Salon des Beaux Arts of the National Society of Fine Arts, for their annual exhibition at the Carrousel du Louvre, Paris. Here, my work was awarded the Silver Medal by invited Jury of personalities from the art world.
I was born in Whitstable and grew up in Canterbury, England, where my love of nature and the countryside began. Later, my husband and I moved to Yorkshire, where we lived for 26 years, close to open farmland, which was a constant source of inspiration. In 2015, we sold up and moved to a rural area in La Mayenne, France, taking over an old farmhouse and an acre of land. After a break from printmaking to develop our new home, integrate in the community and make new friends, I'm now in my beautiful new studio daily and my portfolio is increasing rapidly with each new project, inspired by the huge diversity of plants, animals and insects that surround us.
Contact Me
The personal information you have provided here will allow me to send you news and information regarding my linocut workshops in France. It will not be sold or shared with any third party. By submitting your details here you consent to me collecting and storing your data. You are free to opt-out at any time, please contact me should you wish to do this.